Knox Handroid Pod Gloves MK5
---
Knox Handroid Pod Gloves MK5
The long-awaited short cuff Handroid Pod Mk5 has arrived and it's moved up another gear!
Due to its innovative futuristic look the award winning Handroid Pod is the most striking design of motorcycle glove ever made. The design includes features such as the scaphoid protection system as well as the eye catching exo skeleton finger spines which cover the tops of the fingers for impact protection as well as a unique Boa closing system which always ensures a perfect and secure fit.
The eagerly anticipated Handroid Pod Mk5 has finally arrived, and it's better than ever!  With its innovative and futuristic design, the award-winning Handroid Pod is the most visually striking motorcycle glove on the market.  The glove features the patented Scaphoid Protection System and exo-skeleton finger spines, which provide impact and abrasion protection and add to its distinctive appearance.   The glove also boasts a unique Boa closing system that ensures a perfect and secure fit every time.
The new Handroid Pod Mk5 features a contemporary printed hexagon leather design.  It features a new low-profile BOA wrist closure system with a micro-adjustable BOA dial, that allows riders to fine-tune their glove for the perfect fit.  This patented BOA wrist closure system is exclusive to the Knox brand.
The Knox Scaphoid Protection System (SPS) includes Micro-Lock for added impact absorption and covers the edges of the hand for maximum coverage.  The palm is made from ethically sourced 0.8mm kangaroo leather, which offers exceptional strength and feel.  The rest of the glove is constructed from drum-dyed cowhide.
The Handroid Pod Mk5 is available in one colour: All Black.  It comes in sizes ranging from S to 3XL.
Details & Fit
CE Certified EN 13594
Short cuff style.
Low profile BOA® wrist closure system with lifetime guarantee.
Unique Exoskeleton spines on the fingers for abrasion and impact.
Wrist retaining strap for added security.
Ethically sourced 0.8mm Kangaroo palm in black.
Lightweight 0.8mm drum dyed leather, contemporary printed hexagon design.
Patented Knox SPS Impact technology with added Micro-Lock for extra impact absorption
Unique Exoskeleton spines on the fingers for abrasion and impact.
Touch Screen enabled.
Sizes – S – 3XL
Colour- All Black
Also available as a long cuff – Handroid Mk5
Technical Information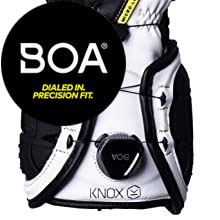 BOA® FIT SYSTEM
Delivering fit solutions purpose-built for performance, the BOA® Fit System consists of three integral parts: a micro-adjustable dial, a super-strong lightweight lace and low friction lace guides. The MK IV no longer relies on a secondary retaining wrist strap, but is now a simple 1 step process activated entirely by the BOA® Fit System for a fast, effortless, precision fit.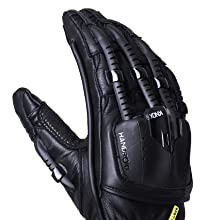 METACARPAL & EXOSKELETON
The striking exoskeleton spines now have a much lower profile, a softer feel and are more aero dynamic than before, yet just as effective.
The metacarpal protector covering the back of the hand houses a gel lining for impact absorption.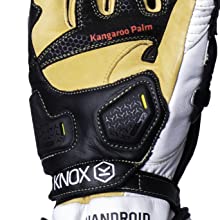 SCAPHOID PROTECTION SYSTEM
The new SPS Impact is the latest development of the Knox patented Scaphoid protection system and has the added benefit of MICRO-LOCK impact protection incorporated into the slider.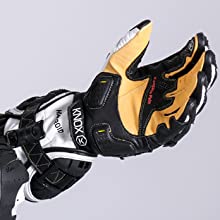 KANGAROO PALM
Sustainable 0.8mm Kangaroo hide has been selected for its superior strength and enhanced feel on the palm and fingers. By weight, it is still stronger than any other leather. This continues to be sourced from the same Australian family business that have been experts in their field since 1891.